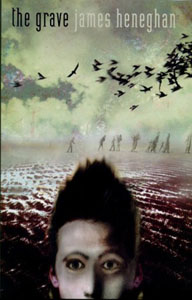 The Grave, James Heneghan
This is another St. Patrick's Day find, as it was the only YA book that popped up in our catalog under "Ireland". The cover art is atrocious, but I'm always vaguely interested in books about Ireland, so I picked it up.
It was the right choice. Tom Mullen, a Liverpudlian foster kid, falls into a mysterious mass grave in 20th-century Liverpool and wakes up in Achill, an island off the west coast of Ireland, in the midst of the potato famine. This is of course a pretty bad place to find oneself, but Tom does swimmingly: within minutes he's rescued one of the townspeople from drowning and is hailed as a hero (possibly of a supernatural order). Oddly enough, the kid he's rescued is pretty much his doppelganger, which lends some credence in the villagers' minds to the "supernatural" theory. Tom bunks with the Monaghans for a few days, befriends the oldest Monaghan brother, Brendan, who is disabled and reminds Tom of his co-foster-kid back home. He also falls in love with Hannah, the Monaghan daughter. He gets shunted back and forth between 1840s Ireland and 1970s Liverpool, facing tragedy and historically accurate hardship in both places, until he finally learns why he was sent back in time–and, in the process, learns valuable lessons about family and friendship (of course). I won't reveal the ending, because it actually surprised me, and it'd be a shame for you to miss out on it.
The problem I had with this book—and it's relatively minor—is that Tom sounds much older than he is. He's only supposed to be twelve or thirteen, but his attitudes and vocabulary and interests seem at least three or four years older, and it's kind of disconcerting. Obviously he's supposed to be more worldly than your average adolescent, what with being a foster kid and all, but this goes beyond what can be accounted for by his status. I really enjoyed his voice and the writing generally, but in my head, Tom had to be fifteen to make it work.
In short: A well-written and compelling time-travel story. Its somewhat clichéd ending and message don't detract from the power of the famine scenes, so it works in the end.
Read it if you like: Snarky British teenagers; the potato famine
Don't take my word for it:Â Reader Rabid, Reading Matters