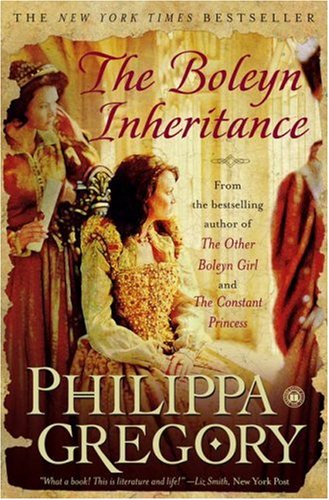 The Boleyn Inheritance, Philippa Gregory
In short: Though not as good (or as sexy) as some of her other novels, The Boleyn Inheritance is still really entertaining, largely because it focuses on three historical figures that we don't hear a lot about. The book's chapters alternate among Katherine Howard (Henry's very, very young fifth wife), Anne of Cleves (his supposedly ugly fourth wife), and Jane Boleyn (Lady Rochford, George Boleyn's wife, who got Anne Boleyn and then Katherine Howard sent to the Tower).
The novel is written entirely in the first person, and the voices of the three women are distinct and engaging. Plus, Gregory manages to create tension and suspense, even though we know exactly what's going to happen—quite a feat, really. This is a good, quick read,  and it's fun to explore these events from the perspectives of less well-known women.
Read it if you like: Everything else she's written