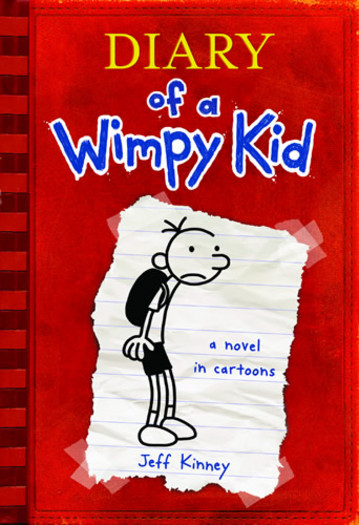 Diary of a Wimpy Kid, Jeff Kinney
These books are insanely popular at our library, and with good reason: they're easy and quick to read; about a third of the story is told in comic format; and they're very, very funny. Protagonist Greg Heffley is a socially awkward/inept middle-school student, and his diary chronicles his daily missteps, almost all of which are hilarious.
A lot of the humor stems from the bad things Greg does: he's a jerk to his best friend, his little brother, his teachers, his parents, etc. This seems to concern some parents, who worry that kids will look to Greg for social cues. Well, as long as your kid has a basic sense of right and wrong, he or she isn't going to look to Greg Heffley as a role model. Plus, the books are only funny if you understand that the things Greg does are wrong, so if your kid doesn't know the difference between right and wrong, they won't like these books anyway.
One of the other great things about this series is the wide range of its appeal. The language is simple enough that kids in lower elementary grades can read and enjoy this, but the subject matter will appeal to older kids as well (and, um, me, and probably you too). They're very, very funny books, and with any luck, they'll encourage kids to do some journaling (and comic-drawing) of their own.
In short: Though it's especially good for the reluctant reader (boys in particular love it), this series is fun for anybody who has a sense of humor.
Read it if you like: Things that are funny, Captain Underpants